The challenge is simple: knowing what would a ukrainian family eat on a normal sunday, no war, at this time of year. After gathering the information, the Fillingin partnership with the SIC Esperançadecided next Sunday to serve a traditional Ukrainian meal to all Portuguese who accept the challenge, reverting all proceeds to aid war refugees in Portugal. Surpluses, if any, will be donated to the refoodwhich will distribute them to Ukrainian refugees already living in our country.
the solidarity lunch is scheduled for sunday10 April between 12:00 and 16:30 and aims to €10,000 fundraiser. It is planned to prepare 200 to 300 meals of traditional Ukrainian food and each customer will give what he understands about the meals. It will be a unique opportunity to taste a traditional Ukrainian meal and, at the same time, help.
On the menu, which would be common in peacetime Ukraine, you find "Borscht", a traditional soup, usually prepared with beets, which gives it a strong red color. The dish is usually served with cream and accompanied by boiled potatoes. As a main dish they will be served "Varenykys", which can be made with Ukrainian cheese, sauerkraut, meat, liver, mushrooms, mashed potatoes, baked beans, soft peas or even fruit. Dessert will bepaska", a traditional Ukrainian cake served at Easter. It is often enriched with citrus juice or zest, vanilla, rum, ginger, and occasionally saffron. Some varieties include raisins, candied fruit, or maraschino cherries.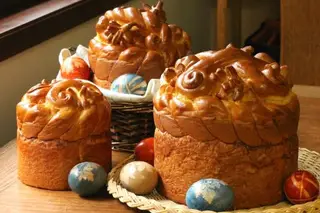 The solidarity action takes place in the WEAT Gastronomic Hubsat the Spanish Dock (Edifício Gonçalves Zarco, Rua da Cintura do Porto de Lisboa, Lisbon. Tel. 917776656) and the coordination of recipes is in charge of the chef Miguel Castro Silva. In the execution of the project will be the Ukrainian model Sasha Beznosyukmarried to the doctor Miguel Stanleyan activist who recently went to the Ukraine-Poland border recently, at the beginning of the conflict, to seek refugees and to take essential utensils and medicines.
THE Filling will donate all the ingredients that will allow this mission to be carried out and the money raised will be donated in full to SIC Esperança, which proposes to work in the field with volunteers, in support of refugees who are arriving in our country. If you want to be a volunteer, you can sign up HERE.
follow the Good Bed Good Table at the Facebookat the Instagram and not twitter!